Online MBA With Jain University
Get a FREE COUNSELLING for your Online MBA Degree
Embark on an empowering journey with our esteemed Online MBA program, tailored for ambitious individuals seeking remarkable career advancement in the dynamic realm of business and management. This prestigious degree is your key to unlocking a world of exciting opportunities, elevating your earning potential, honing essential technical and managerial skills, and expanding your professional network to new horizons.
Our comprehensive two-year Online MBA program encompasses a carefully curated curriculum, combining foundational courses, core subjects, elective options, and a comprehensive master thesis intermediary. Flexibility is at the heart of our program, allowing you to balance your studies with your existing commitments by offering weekend learning and convenient accessibility. We understand that your lifestyle matters.
Aligned with the esteemed AICTE model curriculum, our core courses and electives ensure a transformative learning experience that enriches your domain knowledge and equips you with practical applications for effective business processes and astute decision-making.
Online MBA Degree Electives
Get a FREE COUNSELLING for your Online MBA Degree
Access to 20,000+ courses on LinkedIn Learning, Coursera, SWAYAM, and NPTEL.
Expand your skills by learning beyond the syllabus.
Cross-functional domain by choosing an additional course each semester.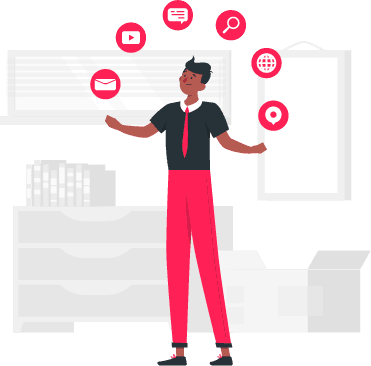 Digital certificates to enhance your resume with recognized achievements.
Step 1
Visit the JAIN Online Enrollment Form
Step 2
Sign up and complete the 4 essential steps to enroll in your chosen program.
Step 3
Pay the fee through Net banking/ Debit card/ Credit card or opt for easy EMI with 0% interest.
Career Advancement Services
The Career advancement services team works tirelessly to connect our students with the right job opportunities. Our years of experience in training, networking and human resourcing skills helps our students find exciting and challenging job opportunities. Our students get placements in reputed companies through a structured framework.
A dedicated support team is available to answer queries and provide guidance to learners.

Academic mentorship offered for expert advice across various academic subjects.
Doubt-clearing sessions and online mentoring with faculty during live classes and discussion forums.
Guidance on further studies through expert counseling sessions.

Career mentorship and development programs for professional excellence.

Insights from young entrepreneurs on essential skills for success.

Resume building and placement training programs to excel in interviews.
Practical exposure through industry visits and guest lectures from corporate leaders.
Access to industry reports on LinkedIn Insights and webinars on job market insights.

Connect To Careers Job Fairs to connect with top employers.

Connect To Careers e-hire portal for job applications and online interviews.
What do our learners say?
I consider myself fortunate to be a part of the JAIN Online community. The professors at JAIN Online are highly qualified and experienced, and their use of live examples in teaching enhances our understanding and accelerates our learning. I am thoroughly enjoying my learning journey and am grateful to JAIN Online for this opportunity.
One of the greatest advantages of this Online MBA Program is the flexibility it offers, allowing us to learn from anywhere in the world. The availability of recorded sessions gives us the assurance that we can catch up on missed live sessions, ensuring continuous learning. Therefore, the investment made in this program is highly worthwhile.
Being a working professional, I greatly appreciate the flexibility offered by JAIN Online, which eliminates any concerns about time constraints. The faculty members are exceptionally interactive and knowledgeable, making the learning experience truly fantastic. I am thrilled to be a part of JAIN Online and the opportunities it provides.
Frequently Asked Questions
Is the online degree program offered by JAIN (Deemed-to-be University) UGC entitled?
Yes, the University has authorization from the University Grants Commission (UGC) to provide online degree programs. Our MBA and MCA programs have already been approved by AICTE.
How many credits does the program have?
The undergraduate Program requires the completion of 132 credits.

The Postgraduate Program requires the completion of 90 credits.

Each credit is equivalent to 30 learning hours.
How will I be notified about the admission confirmation?
The admission office of our university will communicate your admission status to you through your registered email or phone number.