Online MBA Courses In today's busy world, many people dream of improving their careers but struggle to find the time. That's where Online MBA and degree programs come in. They offer a way for working professionals to boost their qualifications and careers without giving up their jobs or other responsibilities. In this blog, we'll dive into the world of online MBA and degree programs. We'll look at whether they're valid, how they're different from traditional or distance MBA, and help you decide between online and offline MBA. So, let's start this educational journey together!
What is an MBA?
An MBA, or Master of Business Administration, is a special postgraduate degree that teaches you a lot about managing businesses. It's like a key to better job opportunities and even starting your own business.
Why Online MBA for Working People?
Online MBA Degrees from prestigious universities like Manipal University, Jain University, and LPU, have become popular in India because they're super convenient for working people. Here's why they're great:
Flexible Learning: Online MBA Courses lets you learn at your own pace, which is perfect if you have a job and other things to do.
Study from Anywhere: You can study online from wherever you are, so there's no need to move or spend hours commuting to a campus.
Lots of Choices: These programs offer different areas to specialize in, so you can pick what suits your career goals.
Affordable: Many online MBA programs in India are affordable, which is a big plus for your wallet. You can get an online MBA degree for less than 2 Lakh Rupees.
Is Online MBA Courses Valid?
Absolutely! Online MBA degrees from places like Manipal University, Jain University, and LPU are totally legit and recognized by employers. Just make sure the program you choose is accredited by the right authorities. All the programs offered by LPU, Jain University, Manipal University, and Uttaranchal University are UGC-certified.
Online MBA vs Distance MBA
People often mix up Online MBA and Distance MBA, but they're a bit different:
How You Learn: In an Online MBA, you mostly use the internet to study. You get recorded and live lectures, interactive classes, and mobile apps in online MBA, while Distance MBA sometimes sends you books and stuff by mail.
Interaction: Online MBA usually lets you chat with teachers and other students online, making it more interactive. In Distance MBA you seldom go for classes and you just have to give final exams
Choosing Between Online and Offline MBA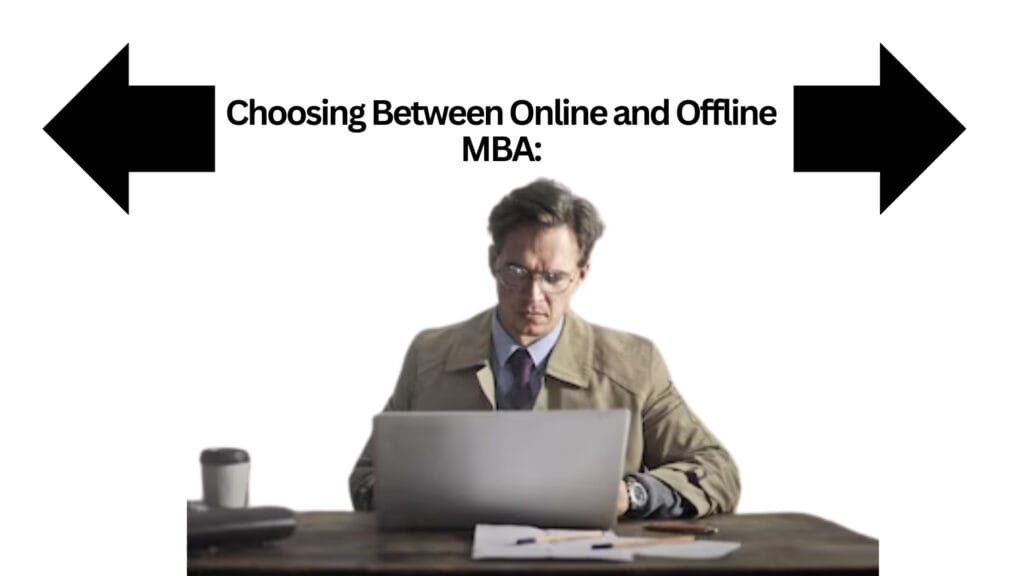 Deciding Between An Online and Offline MBA Depends On Your Situation
Work: If you have a demanding job, an online MBA's flexibility is a big help because you can study when it suits you.
Learning Style: Give a big thought on how you want to learn and earn your degree. Online MBA needs self-motivation, while offline MBA has structured classes.
Networking: An offline MBA might be better for meeting people face-to-face if that's important for your career.
Cost: Online MBA is often cheaper, which is a good thing for your bank account. It also makes sense for people who cannot relocate or want to save money while studying at the comfort of their home. The fees for an online MBA are very much affordable
Conclusion
To sum it up, online MBA and degree programs have made getting a higher education easier for working people in India. Whether you choose Jain University MBA or the LPU online MBA, make sure it's accredited and fits your career goals. So, don't let your busy schedule stop you from getting a better education. Take the leap and apply for an online MBA program today to open up new opportunities on your path to success!